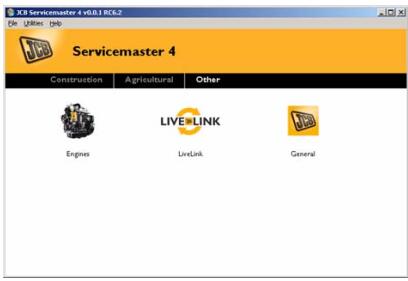 The Flashloader software tool is part of the JCB Servicemaster software suite.If the ECU is replaced and the data file in its flash memory is not applicable it will be necessary to `flash' the ECU memory with the correct data file. The Flashloader software tool can be used to access the data file name
currently loaded in the ECU memory and is necessary up load a new data file ito the ECU.
Related Contents:
Newest JCB ServiceMaster 4 Diagnostic Software
JCB Machine EPC+Service Manual 2017
JCB KG V2 to Unlock Function
Connecting Flash Loader
To use Flash Loader your laptop computer must be connected to the machine CANbus.
Starting Flashloader
1 Turn ON the machine ignition but DO NOT start the engine.
2 Start JCB Servicemaster on the laptop computer.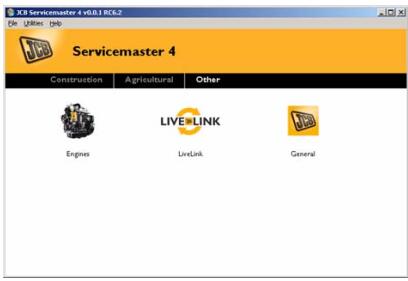 3 Make sure that the correct DLA is selected in the chooser. Click on `Utilities', DLA Setup. The DLA
Chooser window opens. Check the button to match to the Current Device. Click `Apply'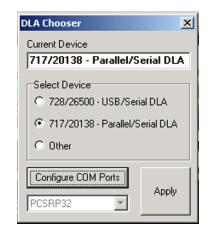 4 Select the required machine range
5 The Flashloader tool will then open.
Using Flash Loader
Important: Do not turn off the ignition or isolate the system by accidentally engaging the operators seat isolation switch when using the flash loader. This will interrupt the flash signal to the ECU and will irreparably damage the ECU.
1 Make sure that the machine ignition switch is set to`ON' but do not start the engine.
2 Click on the ECU icon.
3 Click on the `Browse' button and select the correct data file. Click `Open'.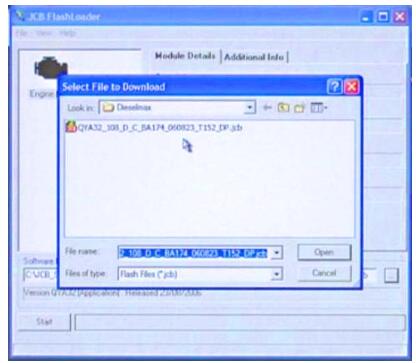 4 Click on the `Start' button. A confirmation window will appear. Click on the `Yes' to start the reprogramming of the ECU. The progress bar is displayed.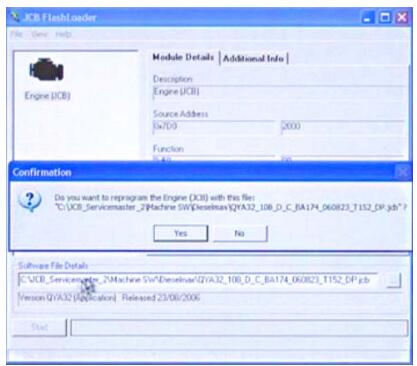 5 When the programming is complete switch the machine ignition to the `OFF' position.
Important: Re-flashing the engine ECU changes the base programme. Re-flashing the ECU does not configure the machine settings such as fuel injector calibration codes,and other machine specific options.
6 Before starting the engine make sure that the machine setup data is correct. You must check that all other relevant machine settings are correctly configured. Use the setup software tool.