Description
VW Audi Skoda Radio Decode Unlock Service with 100% Work,and if it can not work we will refund.
 VW Audi Skoda Radio Decode:
RCD 510,RCD 500,RCD 330,RCD 310,RCD 300,RCD 215,RCD 210,RCD 200,RNS 315,RNS 310,RNS 300,RNS510
Support Models:
Audi:
100,200,A1,A2,A3,A4,A4L,A5,A6,A6L e-tron,A7,A8L,A8,Q2L,Q3,Q5,Q5L,Q7,80,R8,TT.
VW:
Beetle,B8 Variant,Bora,Cross Gran Lavida,CC,C-TREK,Caravelle,Candy,EOS,Jetta,Lavida,Lamando,Multivan,Magotan,Gran Santana,Gran Lavida,Golf,Golf 4,Golf 6,GOL,Golf 7,e-Golf,Sagitar,Santana,Santana 2000,Santana 3000,Scirocco,Sharan,Sportsvan,Touareg,Tharu,T-ROC,Tiguan,Touran,Toureg,TAYRON,TeramontPolo,Phaeton,Passat,Phideon,R36,UP
Skoda:
RNS510 RNS315 RCD510
Caution:Make sure the password of radio you want decode has not be change before.If your radio have been repair before,please check.If your radio code have been changed before,you need this item:2.5.8 pt geza Universal Car Radio Unlock,it can work on part of VW radio,please check details.
How to Use VW Audi Skoda Radio Decode Service?
If your VW,Audi,Skoda radio power outage accidentally,it will require you to input password when you power on radio.We provide you with this password decode servce.
You need remove the radio unit and sent the radio number photo to us like below show: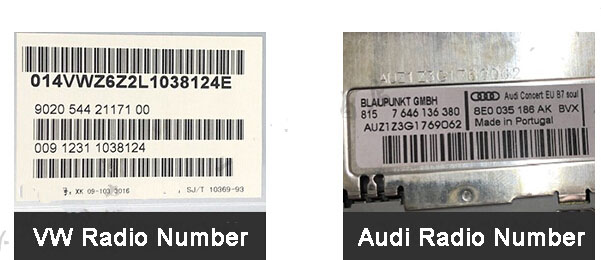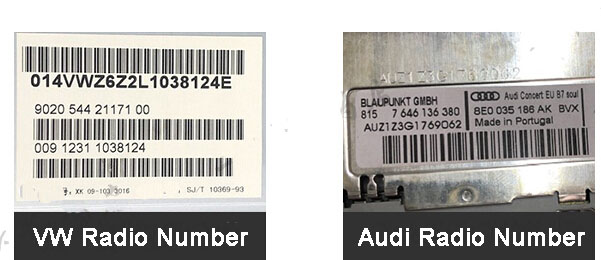 Note:If you input incorrect password 3 time,your radio unit will turn to safe mode or locked.At this time you need wait about 1-2 hours with radio unit keep power on,then it will power off automatically.Now you can power on again and input the correct password provided from us to access radio.Below picture show a "2" on screen,it mean you need wait 2 hours.