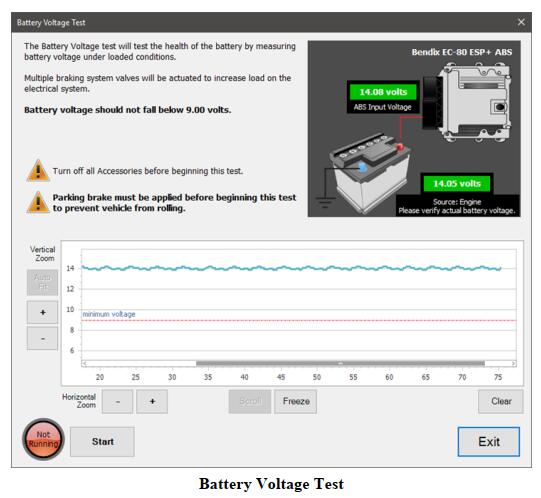 This instruction show you guide on how to use JPRO Diagnostics software to do battery voltage test for Bendix EC-60 and EC-80.
Preparations:
The Battery Voltage Test is available on:
✓ Bendix EC-60 and EC-80 braking systems
This test checks the health of the battery by measuring voltage levels under loaded conditions.
Procedures:
1.Select the Battery Voltage Test and press Enter or the Start button.
2.The test dialog will be displayed.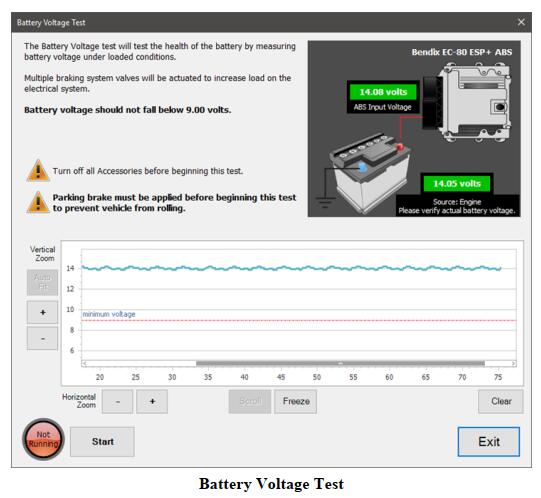 3.Select the Start button to begin the test. Multiple braking system valves will be actuated at the same time to increase load on the electrical system. Vertical lines will appear on the graph to indicate the start and end of the test. Observe the graphed battery voltage.
NOTE: The parking brake must be set before running this test. Simultaneous actuation of the braking system valves can cause the vehicle to freely roll during test duration.
4.Select the Stop button at any time to stop the test. The test will automatically stop after a few seconds.
5.When done, press the Exit button to return to the test selection dialog.