Description
MAN Mantis Electronic Part Catalogue Download & Installation Service
Man Mantis EPC is an electronic spare parts catalog of MAN Truck & Bus AG.
The electronic database contains spare parts and accessories information, detailed model list for trucks, buses, and engines of Man. This catalog includes a lot of pictures, illustrations with a detailed description of equipment components, step by step recommendations for maintenance and repair and many other.
Note:After payment,you can get the download link on payment page.After you finish download,please contact us to install software for you.
Version:09.2019
Languages:
English,Deutsch,Hrvatski,Dansk,Italiano,Francais,Espanol,Magyar,Nederlands,Norsk,Portugues,Polski,Slovak,Slovenščina,Suomi,Turkce,Česki,Pусскии,Română,Έλληνας,Portugues,Svenska,Chineese, Arabic, Korean
Operation Systems:
Windows Vista 32bit (x86), Windows Vista 64bit (x64)
Windows 7 32bit (x86), Windows 7 64bit (x64)
Windows 8 32bit (x86), Windows 8 64bit (x64)
Windows 10 32bit (x86), Windows 10 64bit (x64)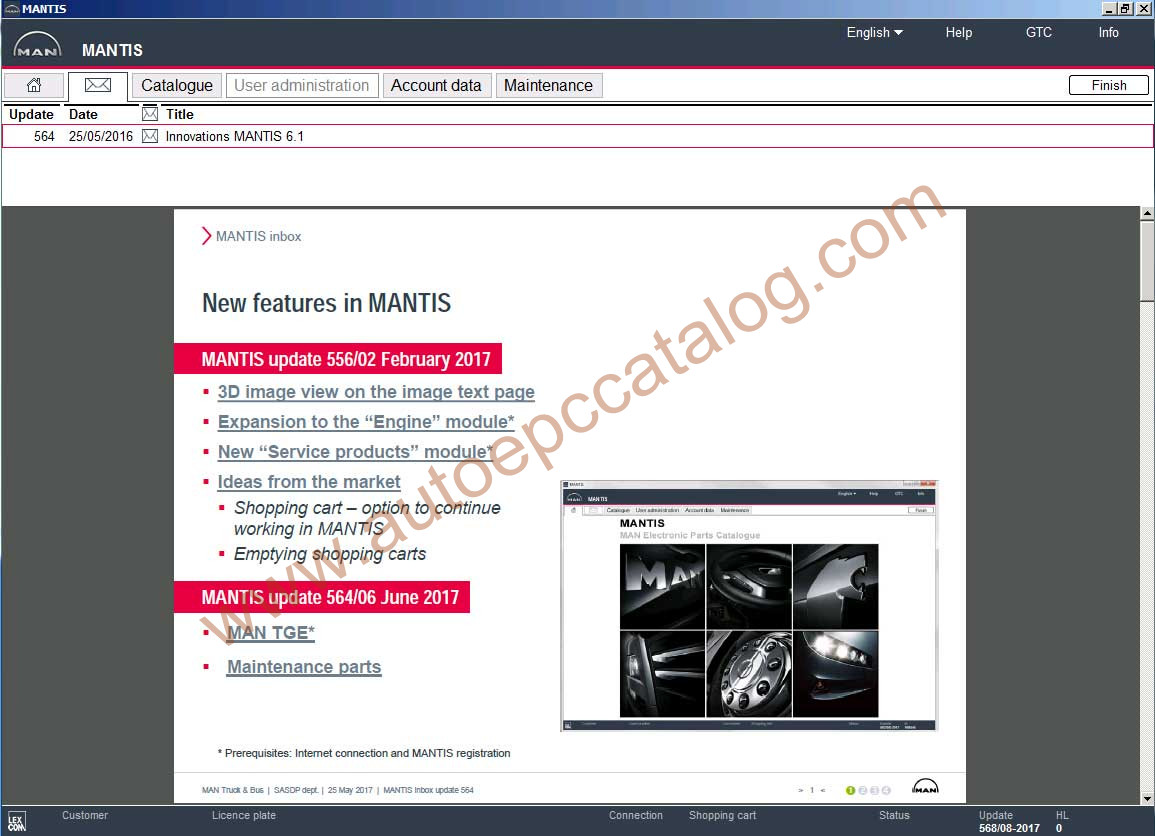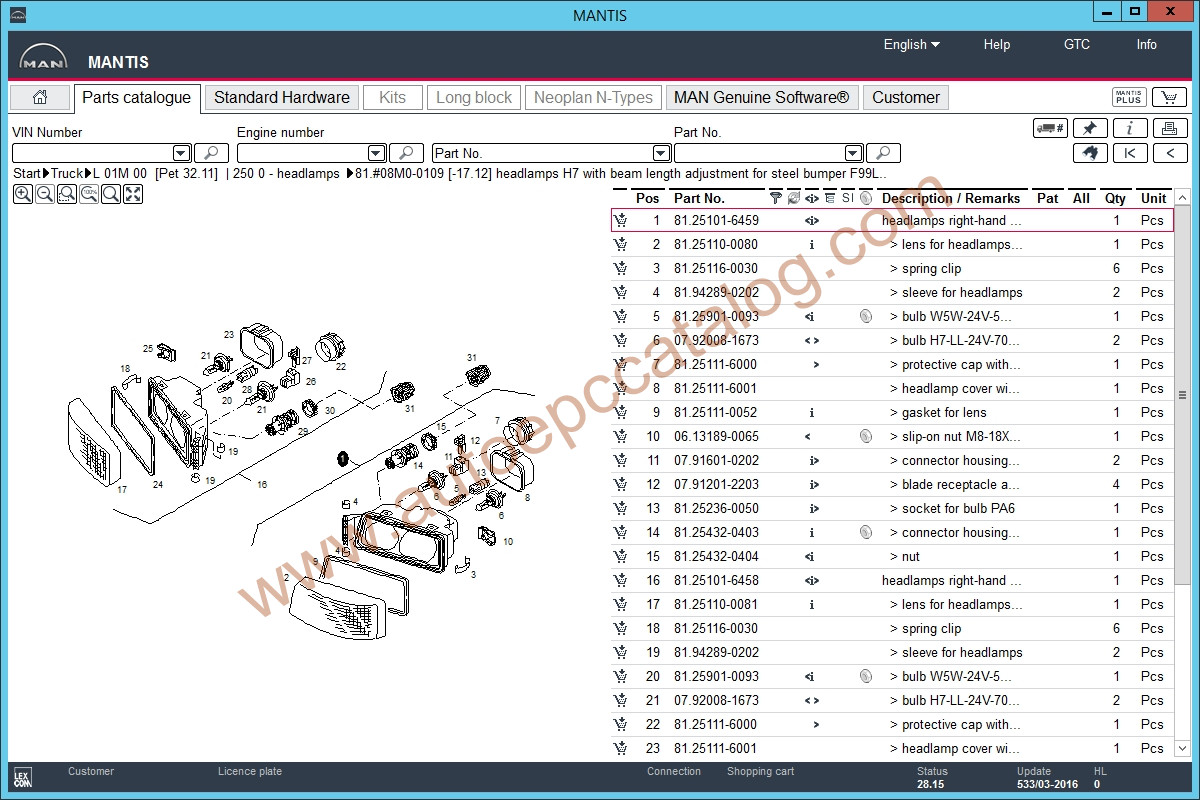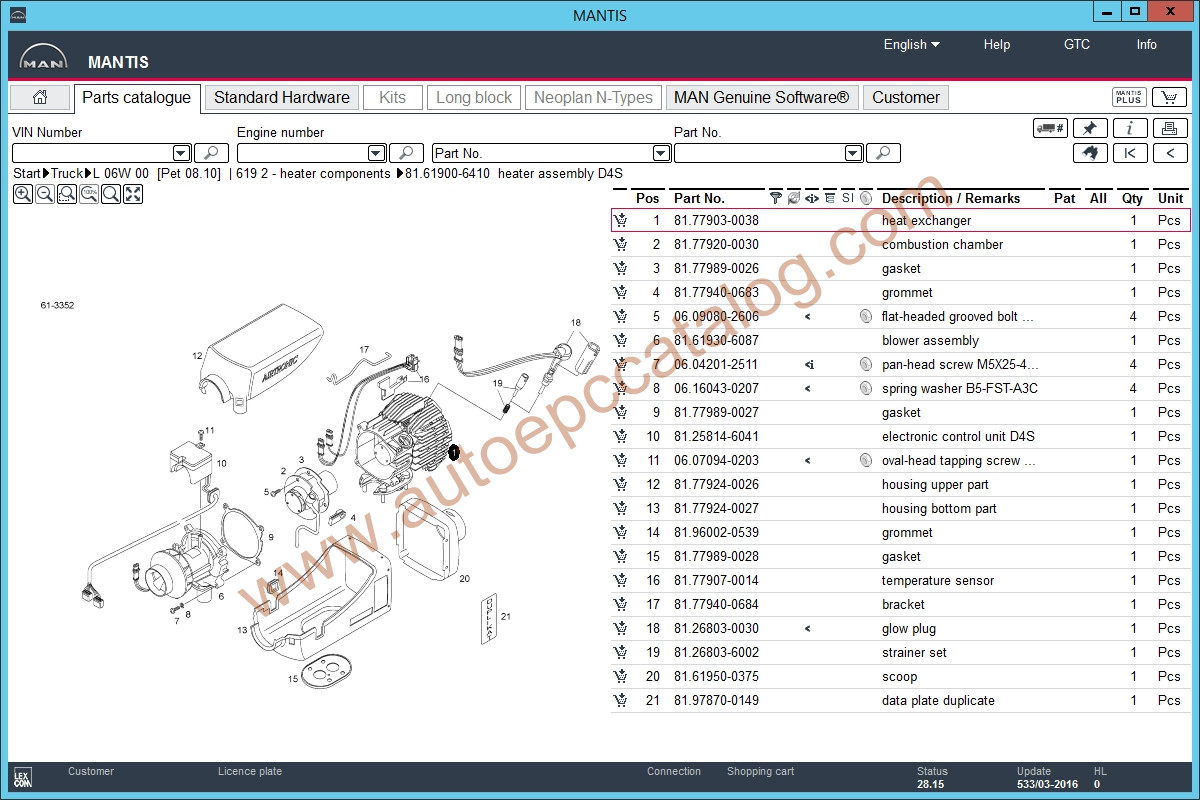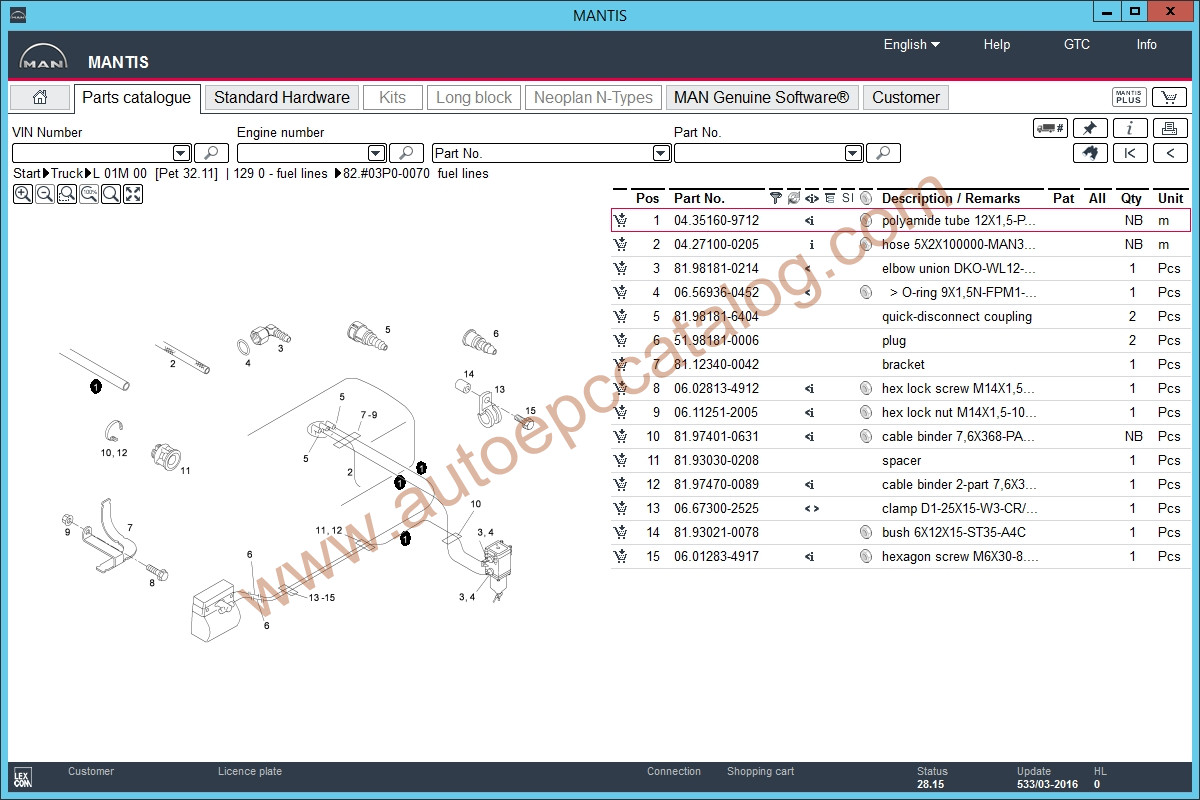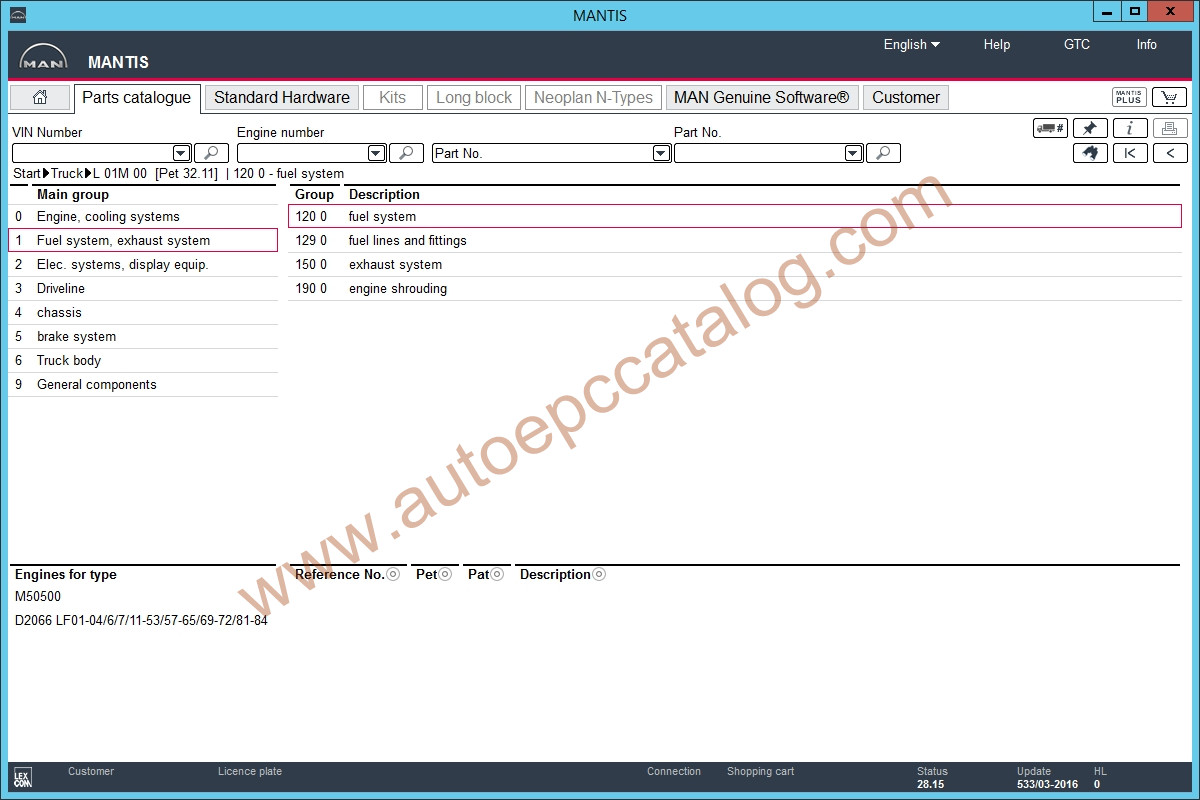 COACH:
B P10 00 N2216/3 SHD TOURLINERC 22.16
B R10 00 LION'S COACH (13M) 22.16
B R62 00 UEL INTERCITY 13.25M 28.15
B R61 00 UEL INTERCITY 13M 27.15
B R60 00 UEL INTERCITY 12M 27.15
B RR9 00 18T HOCL-UEL-SD-CIB 29.14
B RC3 00 18T HOCL-LE-SD 27.14
B RR5 00 26T HOCLN-SD 14.14
B P06 00 SKYLINER L 08.14
B RR3 00 18.HOCL-SD CIB 06.14
B A95 00 ND 323/363 FR 12M 3-ACHSER 26.13
B A45 00 LION'S CITY CLE 13.7M 06.13
B A36 00 LION'S CITY C 13.7M 03.13
B A49 00 LION'S CITY GLLE 18.7M 27.12
B A94 00 14250 HOCLR-NL-CIB 3-ACHSER 20.12
B P27 00 JETLINER C 15.12
B A44 00 LION'S CITY LLE 15M 05.12
B P26 00 JETLINER 02.12
B A40 00 LION'S CITY GL 18.75M 28.11
B R40 00 24460 HOCLN CIB 20.11
B P05 00 SKYLINER L 33.10 – 18.14
B RR2 00 18T HOCL-SD 32.09
B RR4 00 26T HOCLN-SD 22.09
B RR6 00 26T HOCLN-DD 15.09
B RC2 00 18T HOCL-LE-SD 02.09
B RR8 00 18T HOCL-LS-SD 14.08
B 456 00 CENTROLINER MIDI 04.08 – 08.11
B R39 00 18410/430 HOCL/R CIB 33.07
B 488 00 ND 313-DUBAI 33.07 – 01.14
B J33 00 N 6321 GELENK-TROLLET 29.06 – 21.09
B P15 00 N 1217 HD CITYLINER C 14.06
B PB1 00 N 1122/3 C SKYLINER 12.06 – 22.10
B PB2 00 N 1122/3 L SKYLINER  12.06 – 22.10
B R09 00 LION'S COACH C (13.3M) 35.05
B P20 00 N 2216/3 SHD TOURLINER C 34.05
B P14 00 N 1216 HD CITYLINER 16.05
B P16 00 N 1218 HD CITYLINER L 14.05
B R37 00 24410/460 HOCLN/R-15M 12.05 – 27.14
B A47 00 LION'S CITY M (NL 243/283 10.5M) 11.05
B P11 00 STARLINER C 08.05
B R14 00 LION'S REGIO C (13M) 07.05
B P 25 00 N 3516 UE TRENDLINER C (13M) 36.04 – 18.09
B R33 00 18260/410/460 HOCL/R 20.04
B P12 00 STARLINER L 04.04
B 467 00 N4520 P CENTROLINER 34.03 – 01.06
B A39 00 LION'S CITY DD (ND313) 34.03 – 01.14
B P24 00 N3516/3 UE TRENDLINER L 21.03 – 14.10
B R13 00 LION'S REGIO L 21.03
B A92 00 LION'S 6120 19.03 – 15.13
B R12 00 LION'S REGIO 17.03
B P23 00 N 3516 UE TRENDLINER 17.03 – 14.10
B 487 00 N 4516 CENTROLINER T 11.03 – 14.08
B A38 00 NL 243/283 F 11.03 – 01.07
B A89 00 SL 18.220/260/280 HOCL/R-F 07.03 – 21.14
B A90 00 SG 28.260/310 HGOCL-F 07.03 – 33.08
B A91 00 SUE 223/253/263/313-F 07.03 – 21.14
B 466 00 N 4516 CENTROLINER P 36.02 – 13.09
B A78 00 LION'S CITY LE UE 33.02
B 861 00 N6216 TROLLEY 28.02 – 20.09
B A82 00 18.310/350/360/400/410 HOCL/R LBC 26.02 – 33.09
B A85 00 18.220/280 HOCL/R-CKD 25.02 – 34.08
B A83 00 14.280 HOCL/R 22.02 – 18.10
B A84 00 18.220/260/280/310 HOCL/R-NL-CIB 22.02
B P22 00 N 2216/3 SHD TOURLINER L 20.02
B P21 00 N 2216 SHD TOURLINER 17.02
B 486 00 N 4516 CENTROLINER 10.02 – 08.11
B 489 00 N 4521/4522 CENTROLINER G 10.02 – 08.11
B A77 00 12.220 HOCL/R-SR 06.02 – 27.06
B A37 00 LION'S CITY (NL 243/283 EX. STEHENDER MOTOR) 03.02
B A81 00 24.400/460 HOCLN/R-CKD 36.01 – 14.01
B A34 00 ND 313/363 FR 35.01 – 20.07
B A80 00 12.220 HOCL-NL-CIB 34.01
B J23 00 NG 243 M18 LPG 29.01 – 08.04
B R08 00 LION'S COACH L 20.01
B A67 00 14.280 HOCL/R 15.01
B R07 00 LION'S COACH 14.01
L A52 00 13.220 HOCL-SKD 06.01 – 08.04
B R03 00 LION'S STAR L 24.00 – 14.07
B R02 00 LION'S STAR  24.00-14.07
B PB2 00 N 1122/3 L SKYLINER 12.06 – 22.10
B PB1 00 N 1122/3 C SKYLINER 12.06 – 22.10
B P27 00 JETLINER C 15.12
B P26 00 JETLINER 02.12
B P25 00 N 3516 UE TRENDLINER (13M) 36.04 – 18.09
B P24 00 N 3516/3 UE TRENDLINER L 21.03 – 14.10
B P23 00 N 3516 UE TRENDLINER 17.03 – 14.10
B P22 00 N 2216/3 SHD TOURLINER 20.02
B P21 00 N 2216 SHD TOURLINER 17.02
B P20 00 N 2216/3 SHD TOURLINER C 34.05
B P16 00 N 1218 HD CITYLINER L 14.05
B P15 00 N 1217 HD CITYLINER C 14.06
B P14 00 N 1216 HD CITYLINER 16.05
B P12 00 STARLINER L 04.04
B P11 00 STARLINER C 08.05
B P10 00 N 2216/3 SHD TOURLINERC 22.16
B P06 00 SKYLINER L 08.14
B P05 00 SKYLINER L 33.10 – 18.14
L L53 00 LE 8/10T 4*2 BL D08..FOC (R6) 12.95 – 08.07
L L52 008/10T 4*2 FOC 12.95 – 09.01
L L51 00 8T 4*2 FOCL (4-ZYLINDER MOTOR) 22.94 – 09.01
L L50 00 8T 4*2 FOC (4-ZYLINDER MOTOR) 22.94 – 09.01
L L05 00 8/9T 4*2 FOC 16.88 – 28.94
B J33 00 N 6321 GELENK-TROLLEY 29.06 – 21.09
B J30 00 NMT 222 M10 F 10.99 – 16.04
B J23 00 NG 243 M18 LPG 29.01 – 08.04
B J22 00 NL 242 M12 F-LPG 10.99 – 01.06
B J21 01 NL 243 M12-WIENER-LINER 08.00
B J19 00 NGT 204F 17.95 – 32.02
B J17 02 NL 240F LPG-ITALIEN 11.98
B J17 01 NL 240F LPG-AUVASA VALLADOLID 16.96
B J13 00 NGT 204-M16.5 34.93 – 31.97
B J10 00 NG 235F LPG 05.94 – 32.02
B J07 00 NL 205 M11 LPG 25.90 – 32.02
B ALE 00 VORSTADTBUS AUTODROMO 01.99
B A95 00 ND 323/363 FR 12M 3-ACHSER 26.13
B A94 00 14250 HOCLR-NL-CIB 3-ACHSER 20.12
B A92 00 LIONS 6120 19.03 – 15.13
B A91 00 SUE 223/253/263/313-F 07.03 – 21.14
B A90 00 SG 28.260/310 HGOCL-F 07.03 – 33.08
B A89 00 SL 18.220/260/280 HOCL/R-L 07.03 – 21.14
B A85 00 18.220/280 HOCL/R-CKD 25.02 – 34.08
B A84 00 18.220/260/280310 HOCL/R-NL-CIB 22.02
B A83 00 14.280 HOCL/R 22.02 – 18.10
B A84 00 18.220/260/280/310 HOCL/R-NL-CIB 22.02
B A85 00 18.220/280 HOCL/R-CKD 25.02 – 34.08
B A89 00 SL 18.220/260/280 HOCL/R-F 07.03 – 21.14
B A90 00 SG 28.260/310 HGOCL-F 07.03 – 33.08
B A91 00 SUE 223/253/263/313-F 07.03 – 21.14
B A92 00 LIONS 6120 19.03 – 15.13
B A94 00 14250 HOCLR-NL-CIB 3-ACHSER 20.12
B A95 00 ND 323/363 FR 12M 3-ACHSER 26.13
B ALE 00 VORSTADTBUS AUTODROMO 01.99
B J07 00 NL 205 M11 LPG 25.90 – 32.02
B J10 00 NG 235F LPG 05.94 – 32.02
B J13 00 NGT 204-M16.5 34.93 – 31.97
B J17 01 NL 240F LPG-AUVASA VALLADOLID 16.96
B J17 02 NL 240F LPG-ITALIEN 11.98
B J19 00 NGT 204F 17.95 – 32.02
B J21 01 NL 243 M12-WIENER-LINER 08.00
B J22 00 NL 242 M12 F-LPG 10.99 – 01.06
B J23 00 NG 243 M18 LPG 29.01 – 08.04
B J30 00 NMT 222 M10 F 10.99 – 16.04
B J33 00 N 6321 GELENK-TROLLEY 29.06 – 21.09
L L05 00 8/9T 4*2 FOC 16.88 – 28.94
L L50 00 8T 4*2 FOC (4-ZYLINDER MOTOR) 22.94 – 09.01
L L51 00 8T 4*2 FOCL (4-ZYLINDER MOTOR) 22.94 – 09.01
L L52 00 8/10T 4*2 FOC 12.95 – 09.01
L L53 00 LE 8/10T 4*2 BL D08..FOC (R6) 12.95 – 08.07
B P05 00 SKYLINER L 33.10 – 18.14
B P06 00 SKYLINER L 08.14
B P10 00 N2216/3 SHD TOURLINERC 22.16
B P11 00 STARLINER C 08.05
B P12 00 STARLINER L 04.04
B P14 00 N 1216 HD CITYLINER  16.05
B P15 00 N 1217 HD CITYLINER C 14.06
B P16 00 N 1218 HD CITYLINER L 14.05
B P20 00 N 2216/3 SHD TOURLINER C  34.05
B P21 00 N 2216 SHD TOURLINER 17.02
B P22 00 N 2216/3 SHD TOURLINER L 20.02
B P23 00 N 3516 UE TRENDLINER 17.03 – 14.10
B P24 00 N 3516/3 UE TRENDLINER L 21.03 – 14.10
B P25 00 N 3516 UE TRENDLINER C (13M) 36.04 – 18.09
B P26 00 JETLINER 02.12
B P27 00 JETLINER C 15.12
B PB1 00 N 1122/3 C SKYLINER 12.06 – 22.10
B PB2 00 N 1122/3 L SKYLINER 12.06 – 22.10
B R02 00 LION'S STAR 24.00 – 14.07
B R03 00 LION'S STAR L 24.00 – 14.07
B R07 00 LION'S COACH 14.01
B R08 00 LION'S COACH L 20.01
B R09 00 LION'S COACH C (13.3M) 35.05
B R10 00 LION'S COACH (13M) 22.16
B R12 00 LION'S REGIO 17.03
B R13 00 LION'S REGIO L 21.03
B R14 00 LION'S REGIO C (13M) 07.05
B R33 00 18260/410/460 HOCL/R 20.04
B R37 00 24410/460 HOCLN/R-15M 12.05 – 27.14
B R39 00 18410/430 HOCL/R CIB 33.07
B R40 00 24460 HOCLN CIB 20.11
B R60 00 UEL INTENCITY 12M 27.15
B R61 00 UEL INTENCITY 13M 27.15
B R62 00 UEL INTENCITY 13.25M
B RC2 00 18T HOCL-LE-SD – 02.09
B RC3 00 18T HOCL-LE-SD 27.14
B RNK 00 DOROMAT 873
B RNK 01 DOROMAT 874
B RR2 00 18T HOCL-SD CIB 32.09
B RR3 00 18.HOCL-SD CIB 06.14
B RR4 00 26T HOCLN-SD 22.09
B RR5 00 26T HOCLN-SD 14.14
B RR6 00 26T HOCLN-DD 15.09
B RR8 00 18T HOCL-LS-SD 14.08
B RR9 00 18T HOCL-UEL-SD-CIB 29.14
TRUCK:
L 04* 00 TGX20 4*2 BL-WW-CKD 28.17
L 17V 00 TGE 3T 4*4 FAHRGESTELL MIT DOKA 19.17
L 16V 00 TGE 5T 4*2 FAHRGESTELL MIT FHS 19.17
L 18V 00 TGE 3.5T 4*2 FAHRGESTELL MIT DOKA 19.17
L 26V 00 TGE 3.5T 4*2 PODEST 19.17
L 23V 00 TGE 3.5T 4*4 WINDLAUF 19.17
L 19V 00 TGE 3.5T 4*4 FAHRGESTELL MIT DOKA 19.17
L 24V 00 TGE 5T 4*2 WINDLAUF 19.17
L 20V 00 TGE 5T 4*2 FAHRGESTELL MIT DOKA 19.17
L 25V 00 TGE 3.5T 4*2F PODEST 19.17
L 22V 00 TGE 3.5T 4*2 WINDLAUF 19.17
L 28V 00 TGE 5T 4*2 PODEST  19.17
L 22V 00 TGE 3.5T 4*2 WINDLAUF 19.17
L 14V 00 TGE 3.5T 4*2 FAHRGESTELL MIT FHS 19.17
L 21V 00 TGE 3.5T 4*2F WINDLAUF 19.17
L 15V 00 TGE 3.5T 4*4 FAHRGESTELL MIT FHS 19.17
L 11V 00 TGE 3,5T 4*2 KASTEN 19.17
L 13V 00 TGE 3T 4*4 FAHRGESTELL MIT FHS 19.17
L 12V 00 TGE 5T 4*2 KASTEN 19.17
L 27V 00 TGE 3.5T 4*4 PODEST 19.17
L 06V 00 TGE 3.5T 4*4 KOMBI 15.17
L 02V 00 TGE 3T 4*4 KASTEN 15.17
L 09V 00 TGE 3T 4*2F DOKA 15.17
L 03V 00 TGE 3.5T 4*2F KASTEN 15.17
L 04V 00 TGE 3.5T 4*4 KASTEN 15.17
L 08V 00 TGE 3.5T 4*2F FHS 15.17
L 07V 00 TGE 3T 4*2T FHS 15.17
L 05V 00 TGE 3.5T 4*2F KOMBI 15.17
L 10V 00 TGE 3.5T 4*2F DOKA 15.17
L 01V 00 TGE 3T 4*2F KASTEN 15.17
L 66S 00 TGS 50 10X8-6 BBL 24.16
L 75W 00 TGS 6*6 BB-WW-CKD 19.16
L 75W TGS 33 6*6 BB-WW-CKD 19.16
L 46S 00 TGS 23T 6*2/2 LL-U CT D20/D26.. 16.15
L ME1 01 CLA 31T 8*4 BB-CKD D08.. 07.15
L MF0 01 CLA 18T 4*2 BB 29.14
L N67 00 TGM 13T 4*4 BL-TIB D08..(R6) 28.14
L 03M 00 TGS 40T 6*6 BB D20/D26.. 17.14
L 49W 00 TGS 32T 8*4 BB-WW 09.13
L MF2 01 CLA FO 18T 4*2 LL D08 01.13
L 01M 00 TGS 18T 4*4 BB D20/D26 32.11
O 993 00 JOSKIN ACHSEN 20.11
L 88X 00 TGX 28T 6*2-2 BB-CKD 17.11
L N66 00 TGM 13T 4*4 BB-TIB D08..(R6) 31.10
L 52W 00 TGS 18T 4*4 BB-WW 27.10
L 02M 00 TGS 26T 6*6 BB D20/D26.. 25.10
L MED 01 CLA 31T 8*4 BB D08 25.10
L 60W 00 TGS 35/41T 8*8 BB-WW 24.10
L 18W 00 TGS 26T 6*2-2, 6*2-4 BL-WW 24.10
L 19W 00 TGS 28T 6*2-2 BL-WW 24.10
L 04M 00 TGS 35T 8*8 BB D20/D26.. 14.10
L 58W 00 TGS 40T 6*6 BB-WW 10.10
L 06W 00 TGS 19T 4*2 BLS-WW 08.10
L 56W 00 TGS 33T 6*6 BB-WW 08.10
L 30W 00 TGS 26/33T 6*4 BLS-WW 08.10
L 72W 00 TGS 19T 4*2 BLS-WW-CKD 07.10
L 39W 00 TGS 41T 8*4 BB-WW 34.09
L 76W 00 TGS 33T 6*4 BB-WW-CKD 33.09
L 73W 00 TGS 28T 6*2-2 BL-WW-CKD 33.09
L 28X 00 TGX 28T 6*4 BB-CKD 33.09
L 78W 00 TGS 26T 6*4 BL-WW-CKD 33.09
L 27X 00 TGX 28T 6*4 BB 33.09 – 13.11
L MA5 01 CLA 18T 4*2 BB D08.. (R6) 26.09
L X 93 00 22T 6*6 BB-CKD DFAEX/DFAREX D08..(HX)
L 79W 00 TGS 41T 8*4 BB-WW-CKD 24.09
L HM1 00 TGA 18T 4*4 BB D20/D26.. 24.09/16.12
L N44 00 TGM 26T 6*2-4 LL D08..(R6)
L 77W 00 TGS 40T 6*4 BB-WW-CKD 19.09
L 26W 00 TGS 33T 6*4 BB-WW 19.09
L 34W 00 TGS 40T 6*4 BB-WW 18.09
L 71W 00 TGS 19T 4*2 BBS-WW-CKD 18.09
L N46 00 TGM 26T 6*2-4-BL D08.. (R6)14.09
L 03W 00 TGS 19T 4*2 BBS-WW 12.09
L 42S 00 TGS 26T 6*4H/2, 6*4H/4 BL D20/D26.. 32.08
L HM4 00 TGA 35/41T 8*8 BB D20/D26.. 30.08 – 16.12
L HM2 00 TGA 26/33T 6*6 BB D20/D26.. 27.08 – 16.02
L HM3 00 TGA 40T 6*6 BB D20/D26.. 25.08 – 16.12
L HV8 00 TGA 32T 8*4 BB-WW D20.. 22.08 – 10.11
L HV4 00 TGA 28T 6*2-2 BL-WW D20/D26.. 21.08 – 10.11
L HV1 00 TGA 26T 6*2-2.6*2-4 BL-WW D20/D26.. 20.08 – 10.11
L HV6 00 TGA 35/41T 8*8 BB-WW D20.. 19.08 – 10.11
L HV5 00 TGA 18T 4*4 BB-WW D20.. 16.08 – 10.11
L X92 00 18T 4*4 BB-CKD FAEX/FAREX D08.. (HX) 15.08 – 16.15
L X81 00 44T 8*8 BBS V8 (HX) 15.08 – 16.15
L HV7 00 TGA 28T 6*2-2 BL-WW-CKD D20-D26.. 11.08 – 10.11
L HV2 00 TGA 26/33T 6*4 BL-WW D20/D26.. 11.08 – 10.11
L N37 00 TGM 13T 4*4 BB (R6) D08.. 03.08
L 45S 00 TGS 24T 6*2-2 LL-U D20/D26.. 03.08
L 71S 00 TGS 28T 6*4H-4 BL D20/D26.. 02.08
L MC5 01 CLA 26T 6*4 BB D08.. (R6) 01.08
L 42X 00 TGX 26T 6*4H/2, 6*4H/4 BL D20/D26.. 31.07
L 41S 00 TGS 32/35T 8*4 BL D20/D26.. 31.07
L N49 00 TGL 12T 4*2 BL-FOC D08..(R6) 31.07 – 20.16
L 92S 00 TGS 35T 8*4-4 BL D20/D26.. 30.07
L 89S 00 TGS 28T 6*2-2 BL D20-D26.. 30.07
L X98 00 25T 6*6 BB-CKD DFAEX/DFAREX D20.. (HX) 29.07 16.15
L 15S 00 TGS 18T 4*2 LL-U D20/D26.. 29.07
L 15X 00 TGX 18T 4*2 LL-U D20/D26.. 29.07
L MA6 01 CLA 18T 4*2 BB-CKD D08.. (R6) 28.07
L MC6 01 CLA 6*4 BB-CKD D08.. (R6) 28.07
L 92X 00 TGX 35T 8*4-4 BL D20/D26.. 28.07
L 26X 00 TGX 25/33T 6*4 BB D20/D26.. 27.07
L 82S 00 TGS 26/33T 6*6 BL D20/D26.. 25.07
L 95X 00 TGX 41T 8*4/4 BL V8 25.07
L 74S 00 TGS 28T 6*2-4 BL D20/D26.. 25.07
L 84S 00 TGS 28T 6*4-4 BL D20/D26.. 24.07
L 73S 00 TGS 35T 8*4H-6 BL D20/D26.. 22.07
L 59S 00 TGS 35T 8*6H BL D20/D26.. 21.07
L 70S 00 TGS 26/33T 6*6H BL D20/D26.. 19.07
L 05X 00 TGX 18T 4*4 BLS D20/D26.. 19.07
L 22S 00 TGS 18T 4*4 BL D20/D26.. 18.07
L 80S 00 TGS 18T 4*4 BL D20/D26.. 17.07
L 52S 00 TGS 18T 4*4 BB D20/D26.. 17.07
L 45X 00 TGX 24T 6*2-2 LL-U D20/D26.. 17.07
L 90S 00 TGS 35T 8*2-4, 8*2-6 BL D20/D26.. 16.07
L 35S 00 TGS 26T 6*4H-2, 6*4H-4 BL D20/D26.. 16.07
L 86X 00 TGX 41T 8*4/4 BB D26.. 16.07
L 89X 00 TGX 28T 6*2-2 BL D20/D26.. 14.04
L 79X 00 TGX 33T 6*4 BL V8 12.07 – 01.16
L 30S 00 TGS 26/33T 6*4 BL D20/D26.. 12.07
L 08S 00 TGS 18T 4*2 BL-TS D20/D26.. 11.07
L 93S 00 TGS 35/41T 8*6 BB D20/D26.. 09.07
L HB5 00 TGA 26T 6*2-2 BL FOCNR-CKD D20.. 05.07 – 17.15
L 18X 00 TGX 26T 6*2-2, 6*2-4 BL D20/D26.. 05.07
L N65 00 TGM 18T 4*2 BL-TIB D08.. (R6) 05.07
L 96S 00 TGS 35/41T 8*8 BB D20/D26.. 05.07
L 10X 00 TGX 18T 4*2 LL D20/D26.. 34.06
L HH1 00 TGA 26T 6*6H BL D20/D26.. 34.06 – 36.08
L 03S 00 TGS 18T 4*2 BB D20/D26.. 32.06
L 49S 00 TGS 32T 8*4 BB D20/D26.. 32.06
L 13S 00 TGS 18T 4*2 LLS-U D20/D26.. 32.06
L 10S 00 TGS 18T 4*2 LL D20/D26.. 31.06
L 87X 00 TGX 41T 8*4/4 BL D26.. 30.06
L 26S 00 TGS 26/33T 6*4 BB D20/D26.. 30.06
L 18S 00 TGS 26T 6*2-2, 6*2-4 BL D20/D26.. 30.06
L 94X 00 TGS 41T 8*4/4 BB V8.. 30.06
L N64 00 TGM 18T 4*4 BB-TIB D08.. (R6) 27.06
L 06S 00 TGS 18T 4*2 BL D20/D26.. 25.06
L 22X 00 TGX 18X 4*4H BL D20/D26.. 25.06
L N63 00 TGM 15T 4*2 BL-TIB D08.. (R6) 25.06
L 21S 00 TGS 26T 6*2-2, 6*2-4 LL D20/D26.. 25.06
L 24X 00 TGX 26T 6*2/2, 6*2/4 BL D20/D26.. 25.06
L 78X 00 TGX 18T 4*2 BLS V8 25.06 – 01.16
L 21X 00 26T 6*2-2,6*2-4 LL D20/D26.. 25.06
L HW9 00 TGA 33T 6*4 BB-WW-CKD D20/D26.. 24.06 – 10.11
L 30X 00 TGX 26/33T 6*4 BL D20/D26.. 24.06
L 39S 00 TGX 41T 8*4 BB D20/D26.. 24.06
L 13X 00 TGX 18T 4*2 LLS-U D20/D26.. 24.06
L HW5 00 TGA 19T 4*2 BLS-WW-CKD D20/D26.. 24.06 – 10.11
L 06X 00 TGX 18T 4*2 BL D20/D26.. 23.06
L 37S 00 TGS 35T 8*4 BB D20/D26.. 23.06
L 56S 00 TGS 26/33T 6*6 BB D20/D26.. 22.06
L 24S 00 TGS 26T 6*2-2,6*2/4 BL D20/D26.. 22.06
L HB3 00 TGA 18T 4*2 LL FOCR-CKD D20.. 19.06
L HH4 00 TGA 35T 8*4H-6 BL D20/26.. 17.06 – 36.08
L HW7 00 TGA 19T 4*2 BLS-WW D20/D26 16.06 – 10.11
L HW8 00 TGA 33T 6*4 BBS-WW D20/D26.. 16.06 – 10.11
L HB1 00 TGA 18T 4*2 BB FOCR-CKD D08.. 15.06
L H11 00 TGA 40T 6*4 WW-CKD D20/D26.. 15.06 – 10.11
L N62 00 TGM 18T 4*2 BB-TIB D08.. (R6) 09.06
L N38 00 TGM 18T 4*4 BB (R6) D08.. 07.06
L N36 00 TGM 13T 4*4 BL (R6) 07.06
L N35 00 TGM 13T 4*4 BL (R6) OEBH 07.06 – 01.12
L N34 00 TGM 13T 4*4 BL (R6) FW 07.06
L HB4 00 TGA 26T 6*2-2 LL FOCNR-CKD D20.. 04.06
L N26 00 TGM 15T 4*2 LL D08.. (R6) 04.06
L N28 00 TGM 18T 4*2 LL D08.. (R6) 04.06
L HW6 00 TGA 41T 8*4 BB-WW-CKD D290/D26.. 01.06 – 10.11
L N48 00 TGM 26T 6*4 BB D08.. (R6) 01.06
L N61 00 TGL 12T 4*2 BB-TIB D08.. (R4) 01.06 – 20.13
L H69 00 TGA 39T 8*2-4 BL D20/D26.. 35.05 – 23.08
L HB2 00 TGA 18T 4*2 BB FOCR-CKD D08.. 30.05
L H59 00 TGA 35T 8*6H BL D20/D26.. 28.05 – 36.08
L H50 00 TGA 35T 8*6H BB D20/D26.. 24.05 – 36.08
L N16 00 TGM 16T 4*2 BL D08.. 22.05
L H67 00 TGA 26T 6*4 BL-WW-CKD D20/D26.. 19.05 – 10.11
L H66 00 TGA 33T 6*4 BB-WW-CKD D20/D26.. 19.05 – 10.11
L H64 00 TGA 19T 4*2 BBS-WW-CKD D20/D26.. 19.05 – 10.11
L H65 00 TGA 18T 4*2 BLS-WW-CKD D20.. 19.05 – 23.08
L L97 00 LE 18T 4*2 BL D08.. CKD (R6) 18.05 – 05.07
L H78 00 TGA 18T 4*2 BLS V8 17.05 – 23.08
L H79 00 TGA 33T 6*4 BL V8 17.05 – 23.08
L HW3 00 TGA 41T 8*4 BB-WW D20/D26.. 16.05 – 10.11
L HW4 00 TGA 33T 6*6 BB-WW D20/D26.. 16.05 – 10.11
L HW1 00 TGA 19T 4*2 BBS-WW D20/D26.. 16.05 – 10.11
L T82 01 19T 4*2 FL-SKD JINHUA (R6) 13.05
L T83 01 59T 4*2 F-SKD JINHUA (R6) 13.05
L T85 01 33T 6*4 DF-SKD JINHUA (R6) 13.05
L H34 00 TGA 40T 6*4 BB-WW D20/D26.. 03.05 – 10.11
L H58 00 TGA 40T 6*6 BB-WW D20/D26.. 02.05 – 10.11
L H68 00 TGA 40T 6*4 BB-WW-CKD D28.. 02.05 – 16.07
L HW2 00 TGA 33T 6*4 BB-WW D20/26.. 01.05 – 10.11
L H81 00 TGA 28T 6*4-4 BL D28.. 31.08 – 33.06
L H42 00 TGA 26T 6*4H/2,6*4H/4 BL D20/D26.. 28.04 – 35.08
L H22 00 TGA 18T 4*4H BL D20/D26.. 28.04 – 34.08
L H35 00 TGA 26T 6*4H-2,6*4H-4 BL D20/D26 28.04 – 35.08
L H47 00 TGA 26/33T 6*6H BB D20/D26.. 28.04 – 36.08
L H75 00 TGA 28T 6*2-4 LL D20/D26.. 28.04 – 35.08
L X36 00 40T 8*8 VFAEG/VFAREG-FW (BR.2900) 25.04 – 21.15
L X37 00 30T 6*6 DFAEG/DFAREG-FW (BR.2900) 25.04 – 21.15
L N12 00 TGL 8T 4*2 BL D08.. (R6) 19.04
L L96 00 LE 26T 6*4 BB D08.. CKD (R6) 19.04 – 05.07
L N03 00 TGL 8T 4*2 BB D08.. (R4) 19.04
L N02 00 TGL 8T 4*2 BB D08.. (R6) 19.04
L N11 00 TGL 7,5T 4*2 BL D08.. (R4) 19.04 – 17.07
L N01 00 TGL 7.5T 4*2 BB D08.. (R4) 19.04 – 17.07
L L55 00 LE 10.D08 4*2 BL FOC-CKD (R4) 18.04 – 28.06
L L42 00 LE 8T 4*2 BB D08.. CKD (R4) 12.04 – 28.06
L H91 00 TGA 35T 8*4-4 BLL D28.. 10.04 – 36.08
L H92 00 TGA 35T 8*4-4 BLL D20/26.. 10.04 – 36.08
L L41 00 LE 10T 4*4 BB D08.. CKD (R4) 06.04 – 05.07
L H49 00 TGA 32T 8*4 BB D20/26 06.04 – 36.08
L H99 00 TGA 28T 6*2-4 LL-LOW ENTRY D20.. 03.04 – 23.08
L H84 00 TGA 28T 6*4-4 BL D20/26.. 02.04 – 36.08
L N18 00 TGM 18T 4*2 BL D08.. (R6) 01.04
L N14 00 TGL 12T 4*2 BL D08.. (R6) 01.04
L N05 00 TGL 12T 4*2 BB D08.. (R4) 01.04
L N13 00 TGL 8T 4*2 BL D08.. (R4) 01.04
L N04 00 TGL 12T 4*2 BB D08.. (R6) 01.04
L N08 00 TGM 18T 4*2 BB D08.. (R6) 01.04
L N15 00 TGL 12T 4*2 BL D08.. (R4) 01.04
L H96 00 TGA 35/41T 8*8 BB D20/26.. 36.03 – 36.08
L H71 00 TGA 28T 6*2-4 BL/LL D28.. 35.03 – 29.06
L H60 00 TGA 19T 4*2 BB-WW-CKD D28.. 33.03 – 16.07
L H93 00 TGA 35/41T 8*6 BB D20/26.. 33.03 – 36.08
L H89 00 TGA 28T 6*2-2 BL D20/26.. 29.03 – 35.08
L H85 00 TGA 28T 6*2-2 LL D20.. 29.03 – 16.07
L H80 00 TGA 18T 4*4 BL D20/26.. 29.03 – 36.08
L H43 00 TGA 19T 4*2 BBS-WW D28.. 28.03 – 09.09
L H82 00 TGA 26/33T 6*6 BL D20/26.. 28.03 – 36.08
L H62 00 TGA 33T 6*4 BB-WW-CKD D28.. 25.03 – 18.09
L H57 00 TGA 40T 6*6 BB-WW D28.. 23.03 – 34.14
L H56 00 TGA 26/33T 6*6 BB D20/26.. 19.03 – 36.08
L L91 02 16.284 LAERC-SINGAPORE 19.03
L H52 00 TGA 18T 4*4 BB D20/26.. 19.03 – 09.09
L H33 00 TGA 40T 6*4 BB-WW D28.. 18.03 – 09.09
L H39 00 TGA 41/50T 8*4 B D20/26 16.03 – 36.08
L H90 00 TGA 35T 8*2-4, 8*2-6 BL D20/26.. 16.03 – 36.08
L H30 00 TGA 26/33T 6*4 BL D20/26.. 13.03 – 36.08
L H41 00 TGA 32/35T 8*4 BL D20/26.. 13.03 – 36.08
L H03 00 TGA 18T 4*2 BB D20/26.. 13.03 – 34.08
L H37 00 TGA 35T 8*4 BB D20/26.. 11.03 – 36.08
L H45 00 TGA 24T 6*2-2 LL-U D20/26.. 11.03 – 35.08
L H18 00 TGA 26T 6*2-2, 6*2-4 BL D20/26.. 11.03 – 35.08
L H21 00 TGA 26T 6*2-2, 6*2-4 LL D20/26.. 11.03 – 35.08
L H54 00 TGA 33T 6*6 BB-WW D28.. 10.03 – 34.14
L H63 00 TGA 26T 6*4 BL-WW-CKD D28.. 10.03 – 18.09
L H24 00 TGA 26T 6*2/2, 6*2/4 BL D20/26 09.03 – 09.09
L X60 00 18T 4*4 FAEX/FAREX (HX) 08.03 – 16.15
L X44 00 25T 6*6 DFAEG (SX) 08.03 – 16.15
L H87 00 TGA 28T 6*2-2 LL D28.. 08.03 – 34.06
L X58 00 26T 6*6 DFAEX/DFAREX (HX) 08.03 – 16.15
L X77 00 32T 8*8 VFAEG/VFAREX (HX) 08.03 – 16.15
L L54 00 10T 4*2 FOCL CKD 08.03 – 31.06
L M37 00 ECM 18T 4*2 BL ISB 07.03 – 31.05
L H13 00 TGA 18T 4*2 LLS-U D20/D26.. 04.03 – 34.08
L H10 00 TGA 18T 4*2 LL D20/26.. 04.03 – 34.08
L H15 00 TGA 18T 4*2 LL-U D20/26.. 03.03 – 34.08
L H46 00 TGA 41/50T 8*4 BB-WW D28.. 03.03 – 09.09
L H08 00 TGA 18T 4*2 BLS-TS D20/26.. 03.03 – 34.08
L H48 00 TGA 32T 8*4 BB D28.. 02.03 – 02.06
L H01 00 TGA 18T 4*2 BLS-TS D28.. 34.02 – 16.07
O 997 03 HINTERACHSE (NEOMAN-FLORIDA) 34.02
L H74 00 TGA 28T 6*2-4 BL D20/26 33.02 – 35.08
L H28 00 TGA 33T 6*4 BB-WW D28.. 32.02 – 09.09
L H94 00 TGA 41T 8*4/4 BB/BL D26/28.. 28.02 – 23.08
O 997 01 NEWCAR, TREVI, ITALIEN (MOUSE) 25.05
O 997 02 TVM MARIBOR, SLOVENIEN 25.02
L H31 00 ECT 26T ISM 6*2-2 LL 24.02 – 20.05
L H32 00 ECT 26T ISM 6*2/2 BL 24.02 – 01.07
L H27 00 ECT 26T ISM 6*2-2 BL 24.02 – 01.07
O 997 00 AGGREGATE (AUSLAND) 24.02
O 997 04 IRAN KHODRO DIESEL 22.02
L H07 00 ECT 18T ISM 4*2 BL 19.02 – 29.06
L H16 00 TGA 26T 6*2-4 BL D08.. 18.02 – 09.05
L H19 00 TGA 26T 6*2-4 LL D08.. 18.02 – 09.05
L H70 00 TGA 18T 4*4 BL D28.. 17.02 – 16.07
L H73 00 TGA 35/41T 8*6 BB D28.. 14.02 -14.07
L H72 00 TGA 26/33T 6*6 BL D28.. 13.02 – 14.07
L H76 00 TGA 35/41T 8*8 BB D28.. 11.02 – 36.08
L H61 00 TGA 18T 4*2 BL-WW-CKD D28.. 11.02 – 16.07
L H51 00 TGA 18T 4*4 BB D28.. 10.02 – 16.07
L H55 00 TGA 26/33T 6*6 BB D28.. 09.02 – 19.07
L X45 00 32T 8*8 VFAEG (SX) 04.02 – 16.15
L H40 00 TGA 32/35T 8*4 BL D28.. 01.02 – 16.07
L H88 00 TGA 35T 8*2-4, 8*2-6 BL D28.. 35.01 – 29.06
L H14 00 TGA 18T 4*2 LL-U D28.. 34.01 – 22.06
L H44 00 TGA 24T 6*2-2 LL-Y D28.. 34.01 – 22.06
L H26 00 TGA 26/33T 6*4 BB D20/26.. 33.01 – 36.08
L H38 00 TGA 41/50T 8*4 BB D28.. 31.01 – 16.07
L H95 00 TGA 41T 8*4/4 BB/BL (V10) 30.01 – 25.07
L H06 00 TGA 18T 4*2 BL D20/26.. 30.01 – 34.08
L H36 00 TGA 35T 8*4 BB D28.. 28.01 – 25.07
L L91 01 16.284 LAERC-SINGAPORE 26.01 – 20.03
L L 68 01 14.223-E-R PHILIPPINEN 19.01
L H29 00 TGA 26/33T 6*4 BL D28.. 17.01 – 07.08
L M90 00 LE 14T 6*6 BB D08.. (R06) 12.01 – 17.07
L H04 00 18T 4*2 L D08.. L/R 10.01 – 31.01
L H25 00 TGA 26/33T 6*4 BB D28.. 02.01 – 25.07
L L33 01 9T 4*2 LL-OEBH (4-ZYLINDER-MOTOR) 01.01
L L68 00 LE 14T 4*2 BB D08.. FOC-SKD (R6) 33.00 – 28.06
L T42 03 33.464 DFAT-SAUDI ARABIA 29.00
L M88 00 9T 4*4 BB D08.. (R4) 28.00 – 17.07
L M61 00 LE 10T 4*2 BB D08.. (R4) 26.00 – 01.04
L M80 00 LE 14/15T 4*2 BB D08.. (R6) 26.00 – 01.04
L M55 00 LE 6/8/9T 4*2 BB D08.. (R4) 26.00 – 01.04
L M73 00 LE 12T 4*2 BB D08.. (R4) BEREIFUNG 22.5" 26.00 – 01.04
L M70 00 LE 11/12T 4*2 BB D08.. (R6) BEREIFUNG 17,5" 26.00 – 01.04
L M78 00 LE 13/14T 4*4 BB D08.. (R6) 26.00 – 01.04
L M74 00 LE 12T 4*2 BB D08.. (D6) BEREIFUNG 22.5" 26.00 – 01.04
L M69 00 LE 11/12T 4*2 BB D08.. (R4) BEREIFUNG 17.5" 26.00 – 01.04
L H86 00 TGA 33T 6*2-2 BL D 28.. 24.00 – 22.07
L E60 02 30.364 6*4/2 FANCL-OEBN BJ.2000/2001 23.00
L L90 02 18.284 LAK-SAUDI ARABIA 15.00
L H12 00 TGA 18T 4*2 LLS-U D28.. 15.00 – 22.07
L H02 00 TGA 18T 4*2 BB D28.. 10.00 – 25.06
L H23 00 TGA 26T 6*2/2, 6*2/4 BL D28.. 10.00 – 16.07
L M93 00 26.270 DF-SKD 04.00 – 31.05
L M96 00 32.310 FVN-SKD 04.00 – 08.05
L M92 00 19.270 F-SKD 04.00 – 36.04
L M95 00 25.270 FN-SKD 04.00 – 36.04
L L90 01 18.224 LARK-PAKISTAN 01.00
L E60 01 30.364 6*4/2 FANLC-OEBH 30.99
L T82 00 19T 4*2 FL-SKD-MAROKKO (R6) 25.99 – 31.05
L T48 01 33.373 DFT-TERRAMAR/GAMCO 24.99
L X73 01 40.633 DFAETX ABU DHABI 24.99
L L65 00 LE 18T 4*4 BB D08.. SKD (R6) 20.99 – 05.07
L E62 01 19.403 4*4/2 FALK-OEBH 15.99 – 10.05
L H17 00 TGA 26T 6*2-2, 6*2-4 BL D28.. 10.99 – 16.07
L H20 00 TGA 26T 6*2-2, 6*2-4 LL D28.. 10.99 – 16.07
L H09 00 TGA 18T 4*2 LL D28.. 10.99 – 16.07
L L67 00 LE 18T 4*2 BB D08.. SKD (R6) 10.99 – 05.07
L H05 00 TGA 18T 4*2 BL D28.. 10.99 – 09.09
L X65 01 19.403 4*4/2 FAT-OEBH 10.99
L E98 00 FE 50T 8*8 BB (V10) 09.99 – 14.03
L 764 00 26T 6*6 DFAE-SKD 07.99 – 28.06
L 764 01 26T 6*6 DFAEX-SKD-TUERKEI 07.99
L L95 00 LE 26T 6*4 BB D08.. (R6) 04.99 – 35.06
L E94 00 FE 33T 6*6 BB (V10) 34.98 – 10.04
L L66 00 LE 18T 4*2 BB D08.. SKD (R6) 28.98 – 09.04
L X73 00 40T 6*6 DFAEX 26.98 – 03.08
L T42 02 33.423 DFAT-ABU DHABI 20.98
L T84 00 19T 4*2 F-SKD-AEGYPTEN (R6) 16.98 – 13.05
L T90 00 19T 4*2 FL-SKD-MAN (R6) 15.98 – 31.05
L L69 00 LE 14T 4*2 BB D08.. FOC-SKD (R4) 15.98 – 25.05
L T85 00 33T 6*4 DF-SKD-AEGYPTEN (R6) 13.98 – 31.05
O 998 50 12.155 STAR 01.98
L X52 00 26T 6*6 DFAX 01.98 – 34.06
O 997 50 8.125 STAR 01.98
L X72 00 28T 6*6 DFAX 01.98 – 08.02
L T81 00 26/27T 6*4 DFR-SKD-RSA (6-ZYLINDER-MOTOR) 28.97 – 13.05
L E41 00 FE 41T 8*8, 8*4 BB D28.. 25.97 – 10.05
L X32 00 26T 6*6 DFAEG/DFAREG (V10) 22.97 – 24.08
L X33 00 20T 4*4 FAREG (FW) 22.97 – 35.01
L T44 00 FE 40T 6*6 BB D28.. 19.97 – 07.05
L L40 00 LE 10T 4*2 BB D08.. SKD-RSA (R4) 14.97 – 31.06
L L64 00 LE 18T 4*2 BB D08.. SKD (R6) 13.97 – 35.06
L T17 00 32T 8*4 VFLR (5/6-ZYLINDER MOTOR) 10.97 – 35.01
L L63 00 LE 13T 4*2 BB D08.. SKD (R6) 10.97 – 05.07
L T43 00 FE 40T 6*4 BB D28.. 07.97 – 07.05
ENGINE:
M 422 00 D2676 LE12X/13X/14X 29.17
K CE1 00 D0836 LFL19 12.17
M 531 00 E2676E202/302 08.17
K CD9 00 D0836 LFL10 07.17
K CD5 00 D0836 LFL13 07.17
M 414 00 D1556LF 04.17
K CD7 00 D0836 LF20 36.16
K CD4 00 D0836 LFL13 LHD 10.16
K CD8 00 D0836 LFL16 07.16
K CD2 00 D0836 LFL13 01.16
K CD3 00 D0836 LFL13 LHD 01.16
M 510 00 D2676 LE4 30.15
K CD6 00 D0836 LFL10 29.15
M 522 00 D2676 LE 15.15
M 221 00 BAUREIHE D38.. PROTOTYP 34.14
K CD1 00 D0836 LFL10 25.14
K CB8 00 D0836 LFL13 SAE2 EPTO AC LHD 23.14
M 802 00 E3268 LE212/222/232 18.14
K CB7 00 D0836 LFL13 11.14
M 565 00 D3876LF 01.14
K CB4 00 D0836 LFL13 36.13
K CB6 00 D0836 LFL13 BSIII SAE2
K CE2 00 D0836 LFL13 2VC 35.13
K CA9 00 D0836 LFL13 32.13
K CB5 00 D0836 LFL13 2VCR 32.13
K CA7 00 D0836 LFL13 31.13
M 719 00 D2862 LE631-633 31.13
K CA8 00 D0836 LFL13 28.13
K CB1 00 D0836 LFL16 22.13
K CB3 00 D0836 LFL16 22.13
K CB2 00 D0836 LFL16 22.13
M 812 00 E3262 LE202/212/222/232/242 09.13
K CB9 00 D0836 LFL16 SAE-2 01.13
K CA6 00 D0836 LFL10 36.12
M 517 00 D2676 LE621/623/624 19.12
K CA5 D0836 LFL08 15.12
M 518 05 D2676 LE127D 07.12
M 518 05 D2676 LE127C 07.12
M 077 01 D0834 LIEBHERR 124 12.11
M 507 00 D2066 LE621 01.11
M 016 00 D0843 LOF01-04 31.10
M 024 00 D0836 LOH10/11 31.10
M 712 00 D2862 LE121-126/130-139 30.10
M 642 D2868 LE121-123 30.10
M 085 00 E0834 LE302 BHKW 1500 29.10
K CA4 00 D0836 LFL03 25.10
K CA3 00 D0836 LFL10 EURO-II 18.10
M 508 00 D2066 LE121/122 15.10
M 518 00 D2676 LE12X/13X/14X 15.10
K CA1 00 D0836 LFL03 SAE-1 HSG 12.10
M 114 00 E0836 LOH 11.10
M 632 00 D2868 LFG01 31.09
M 015 00 D0834 LF01/02/06 31.09
K CA2 00 D0836 LFL10 EURO-II 30.09
K CL8 00 D0836 LFL03 SAE-2 RMC 09.09
M 711 00 D2862 LE221/223 35.08
K CL9 00 D0836 LFL03 SAE1 32.08
M 077 02 D0834 LIEBHERR 123 31.08
K CL6 00 D0836 LFL03 RMC 31.08
M 077 00 D0834 LE123-125 31.08
K CL7 00 D0836 LFL03 31.08
K CL5 00 D0836 LFL03 SAE-1 TPR 26.08
K CL4 00 D0836 LFL03 SAE-1 HSG 26.08
M 640 00 D2868 LE421-426/431/433/436 23.08
M 228 00 D0836 LFL 15.08
M 059 00 D0834 LFL 13.08
K CL1 00 D0836 LFL03 SAE-1 FORCE MOTORS 11.08
K CL3 00 D0836 LFL10 SAE-2 EURO II 09.08
K CL2 00 D0836 LFL03 SAE-2 FORCE MOTORS 09.08
M 638 00 D2868 LF02/03/04-07 13.07
M 207 00 D0836 LE122-124 06.07
M 429 00 E2848 LE322 01.07
M 283 00 H2876 UH01 34.06 – 06.16
M 502 00 D2066 LFG01 23.06
M 222 00 D0836 LFG50-51 19.06
M 074 00 D0834 LOH 15.06
M 514 00 D2676 LOH 13.06
M 417 00 D2876 LUE621-623/631/633 12.06
M 515 00 D2676 LF 11.06
M 696 00 D2842 LF10 04.06
M 504 00 D2066 LOH 02.06
M 503 00 D2066 LUH 01.06
M 187 00 D0836 LE 301/311 01.06 – 34.11
M 210 00 D0836 LE 423 27.05 – 34.11
M 214 00 D0836 LOH 25.05
M 069 00 D0834 LFL50-55/57 25.05
M 218 00 D0836 LFL50-56 22.05
M 180 00 D0836 LE2.. 16.05 – 35.12
M 286 00 G2876 DUH 01/02 04.05
M 102 00 E0836 E302/312 36.04
M 544 00 D2876 LOH 20/21 31.04
M 717 00 D2842 LE 620-622 25.04
M 045 00 E0834 E302/312 18.04
M 112 00 E0836 LE 202/302 14.04
M 410 00 D2876 LE 423/426/433/436/443 12.04
M 660 00 D2840 LE 423 12.04 – 16.16
M 301 00 E2876 LE 202/302/212 09.04
M 690 00 D2842 LE 422/423/433/446/453 05.04 – 04.16
M 079 00 D0834 LFL 40/41/42 01.04
M 208 00 D0836 LFL 40/41/44 01.04
M 314 00 E2876 LUH 01/02/03 34.03
M 172 00 D0836 LFG 01 28.03
M 412 00 D2876 LE 301 25.03 – 01.17
M 399 00 D2876 LE 122-124/131/621 25.06 – 01.17
M 193 00 D0836 LUH 40/41/50 25.03
M 630 00 D2848 LE 422/423 24.03 – 04.16
M 402 00 D2876 LE 201-203 20.03 – 01.17
M 666 00 D2840 LF25 09.03
M 505 00 D2066 LF 05.03
M 407 00 D2876 LUE 601-606 04.03
M 204 00 D0836 LOH 40/41/50 32.02
M 372 00 D2876 LFG 01 25.02 – 06.16
M 189 00 D0836 LE4.. 23.02 – 29.12
M 472 00 E2842 203/312 22.02
M 209 00 D0836 LF 13/15/41/43/44 20.02
M 546 00 D2876 LF12/13/25 14.02
M 389 00 D2876 LE101-106 12.02 – 01.17
M 299 00 E2876 TE 302 09.02
M 012 00 BAUREIHE D/E08.. 04.02
M 155 01 D0836 LFL04-SINGAPORE 26.01
M 056 00 D0834 LOH 01/02/03 14.01
M 707 00 D2842 LE 102-104/602/604/606-607 13.01
M 162 12 D0826 LE 532 36.00 – 06.96
M 375 00 D2866 LOH 27-29/32-35/37-40/50-51 28.00
M 036 00 D0824 LFG 01 27.00 – 06.16
M 400 00 D2876 LE 401-407 25.00
M 034 00 D0824 LE201 22.00 – 36.10
M 386 00 D2866 LUH 23-25/27-30/34-37/50-52 21.00
M 195 00 D0836 LOH 01/02/03/04 20.00
M 183 00 D0836 LUH 01/02 18.00 – 31.16
M 492 00 E2842 LE 302/312/322/332/202 06.00
M 396 00 D2876 LOH 02/03/04/05 04.00
M 056 00 D0834 LOH 01-AUTODROMO 04.00
M 298 00 E302/312/322 02.00
M 055 00 D0834 LFL01/02/03/04 – 27.99
M 164 00 D0836 LE501/510 25.99 – 27.08
M 392 00 D2866 LE 402/403/405 24.99 – 34.11
M 260 00 D2866 E 21.99 – 36.12
M 535 00 D2866 LF26-28/32/37/41/43 11.99
M 545 00 D2876 LF04/05/07/11/18-23/24 11.99
M 162 13 D0826 LE533 06.99 – 36.03
M 054 01 D0824 LOH 05-AUTODROMO 01.99 – 03.00
M 423 00 D2848 LE 401/403/405 36.98 – 29.14
M 701 00 D2842 LE 301/302/403-405/407/409-420 19.98
M 185 00 D0836 LF 01/02/03/04/05 14.98 – 30.16
M 155 00 D0836 LFL 01-06 14.98
M 474 00 D2840 LE 301/302/402/403/404/407/409 08.98
M 393 00 D2876 LUH 01/02/03 07.98
M 035 00 D0824 LE 301-USA 35.97 – 36.08
M 304 00 E2866 LUH 01/02 34.97 – 06.16
M 162 09 D0826 LE 528 21.97 – 06.96
M 058 01 D0824 LFL 09/10 STAR 19.97
M 065 00 E0826 E302 16.97 – 35.08
M 025 00 E0824 E302 16.97 – 36.06
M 162 10 D0826 LE530 15.97 – 35.00
M 162 08 D0826 LE527 13.97
M 186 00 D0826 LFG 15/16 06.97 – 06.16
M 397 00 D2866 LUE 602/605 24.96 – 13.11
M 270 00 E2866 E300-302 23.96 – 21.06
M 498 00 D2842 LF 02 22.96 – 30.16
M 162 02 D0826 LE 544 = 162 8248 999 19.96
M 162 07 D0826 LE 524 18.96 – 10.05
M 162 11 D0826 LE 531 12.96 – 35.00
M 387 00 D2866 LUH 20/21/22/26 07.96 – 31.16
M 395 00 D2876 LOH 01 07.96
M 434 00 D2848 LE 201-203/211-213 – 06.96
M 046 00 D0824 E701 30.95
M 106 00 D0826 E701 25.95
M 469 00 D2840 LF 20/21/23/24/27/28 22.95
M 394 00 D2866 LE 201-203/211 20.95 – 16.16
M 188 00 D0826 LF 15/17/18 17.95 – 06.16
M 174 01 D0826 LOH 07 KASACHSTAN 15.95 – 17.07
M 494 00 D2842 LE 101/201-203/211-213 23.94
M 184 00 D0826 LOH 15/17/18/19 23.94
M 464 00 D2840 LE2.. 22.94
M 376 00 D2866 LF 20-25/29-31/34/35/38/39/40/45 16.94
M 294 01 E2866 DUH 01/02/03/04 13.94
M 398 00 D2876 LF 01-03/06/08-10/14/17 13.94
M 256 00 D2865 LF 21-24 12.94 – 20.00
M 156 01 D0826 LE 10 36.93 – 03.96
M 156 03 D0826 LE 103 36.93 – 18.00
M 156 02 D0826 LE 102 36.93 – 32.97
M 276 00 E2866 DOH01/DF01 33.93 – 10.04
M 170 00 D0826 LE201 33.93 – 10.05
M 063 00 D0824 LUE 520/521/522/523/524 17.93 – 21.07
M 057 00 D0824 LF 01/02 17.93 – 02.06
M 158 00 D0826 LFL 03/06-10 15.93
M 058 00 D0824 LFL 01/02/04-10/LFO-01 08.93 – 14.14
M 038 00 D0824 FL01 05.93 – 10.05
M 391 00 D2866 LE 401-403/405 33.92 – 05.00
M 294 00 E2866 DUH 01 29.92 – 18.12
M 054 00 D0824 LOH 01/02/03/04/05 19.92 – 04.09
M 244 00 D2865 LOH 01/02/05/07-10 18.92 – 01.06
M 365 00 D2866 LOH 20-26/30/31 08.92
M 246 D2865 LUH 02/03/05-09 36.91 – 36.00
M 126 00 D0826 TE101 33.91 – 12.98
M 388 00 D2866 LE 101-108 32.91 – 36.03
M 173 00 D0826 LUH/LUH213/LUH01-06/08/10/12/13 31.91 – 15.14
M 493 00 D2842 LE 100/200/400 06.91
M 463 00 D2840 LE 100/200/400 02.91 – 35.08
M 491 00 E2842 E301/302 B2842E 02.91 – 21.06
M 162 00 D0826 LE 521-533 30.90 – 05.10
M 122 00 D0826 TE520 30.90 – 32.97
M 176 00 D0826 LFG 01/02/03/04/05/06/07 24.90 – 18.15
M 133 00 D0826 TUE 501 24.90 – 12.94
M 371 00 D2866 LH 01/02 15.90 – 32.97
M 477 00 D2842 ME601 02.90 – 10.05
M 160 00 D0826 LE200/400 02.90 – 10.05
M 390 00 D2866 LE/LXE 20/30/40/47 32.89 – 01.17
M 468 00 D2840 LF 01/04/06 30.89 – 31.00
M 153 00 D0826 LUE 501/503 29.89 – 12.94
M 473 00 D2840 LE 401 27.89 – 03.11
M 433 00 D2848 LE/LE 406 12.89
M 337 00 D2866 TUE 600 11.89 – 35.08
M 259 00 D2865 LU 01-06 28.88 – 21.96
M 370 00 D2866 TE 25.88 – 36.12
M 496 00 D2842 LF/LF01/LXF/LF720-OEAF 22.08 – 32.97
M 174 00 D0826 LOH/LOH 01-13 21.88 – 17.07
M 095 00 D0826 FO/FO-01/02 16.88 – 21.96
M 272 00 D2866 FG 11.88 – 01.96
M 700 00 D2842 LXE/LYE/LZE/LE 400/401/02/06/08 09.88 – 29.12
M 342 00 D2866 LFG/LXFG 22.87
M 293 00 G2866 UH/UM/DUH 01-05/DUM 01 20.87 – 18.15
M 248 00 D2865 LF/LER/LXFR/LFR01.. 16.87 – 31.00
M 194 00 D0826 TOH 15.87 – 18.15
M 274 00 D2866 OH 15.87 – 06.96
M 094 00 D0826 OH/OH 01-03 15.87 – 21.96
M 354 00 D2866 TOH 13.87 – 10.01
M 278 00 D2866 FZR 04.87 – 06.96
M 368 00 D2866 KF 36.86 – 06.96
M 178 00 D0826 LF/LF217/LF01/02/04-09/11/12/13 27.86 – 15.14
M 088 00 D0826 GF/GFA/GF01/03/04/GFA01/03/04 KOOP-VW 23.86 – 34.00
M 268 00 D2866 F/FR 23.86 – 32.97
M 351 00 D2866 LFZ/LFZR 14.86 – 21.07
M 037 00 D0824 GF/GF01/02/03 KOOP-VW 06.86 – 31.00
M 466 00 D2840 LXF/LF03/LF420/520 05.86 – 31.00
M 364 00 D2866 LOH/LXOH/LOH 02/03/06/07/09 33.85 – 31.00
M 151 00 D0826 TF 32.85 – 06.96
M 367 00 D2866 LUH/LXUH/LUH05 26.85 – 21.07
M 378 00 D2866 LF/LXF 25.85 – 30.16
M 091 00 D0826 F/FR/F01/02/FR01/02 22.85 – 31.00
M 366 00 D2866 LU/LUL/LXU/LU01/03/04/07/08 19.85 – 31.00
TOOLS:
W WZK 00 SPEZIALWERKZEUGKATALOG
W WZK 01 SPEZIALWERKZEUGKATALOG MODUK