Description
Doosan spare parts catalog provides full information about original parts and accessories, parts books, parts manuals, special instructions, installation manuals, other additional information for equipment Doosan.
Note:After your payment,please contact us(autoepccatalog@outlook.com) to sent you download link,and then our tech team will install this software for you.
Daios Doosan Part Catalog Features:
Languages:English,Korea,Chinese,French
OS:Windows XP, Windows 7, Windows 8, Windows 10
Daios Doosan Part Catalog Functions:
– Text and Image Search,
– Main Fig Search,
– Parts List by Model,
– Part Number and Name Search
Part Basic Information Inquiry, Replacing Parts No Inquiry, Together With Parts Inquiry, Kit Components Inquiry.
E-book includes a lot of pictures and images for spare parts of equipment Doosan, which will help you to remove all the existing problems.
Spare Parts Catalog Daios Doosan Infracore CE BG (Daewoo DHI) – Dozer, Edsa Crawler, Edsa Wheel, Excavator Crawler, Excavator Wheel, Forestry Machine, Wheel Loader (I, III, V -models). Export and Oversea.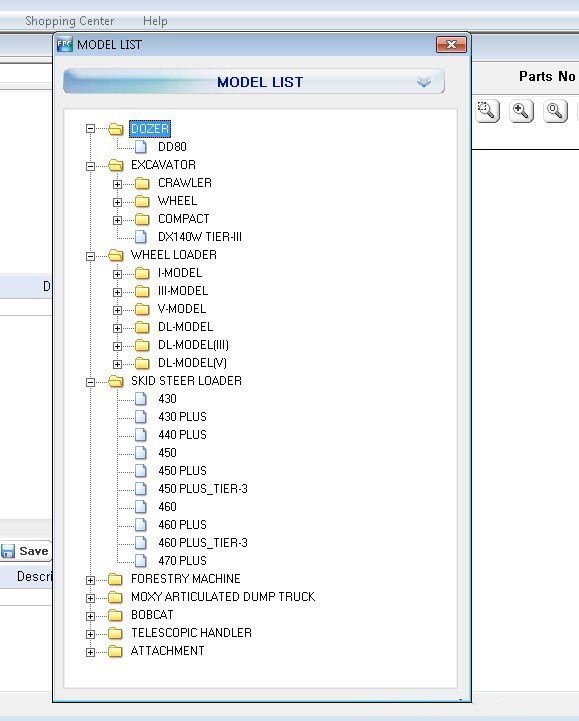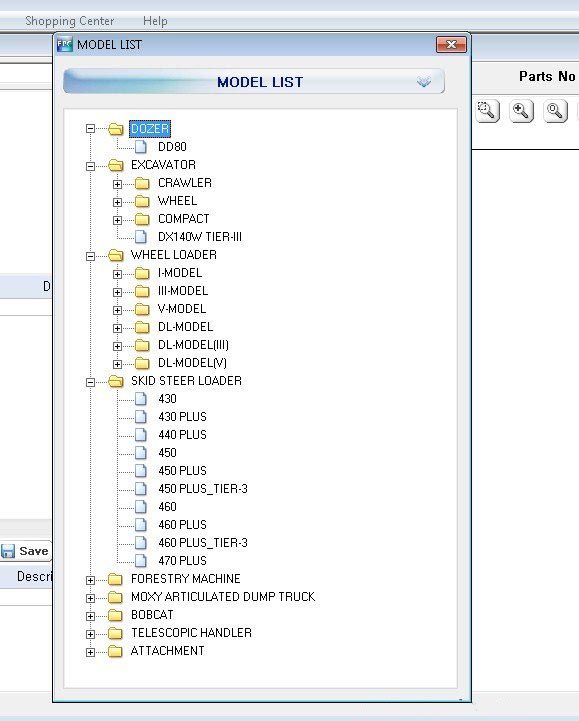 Daios Doosan Parts Catalog Coverage:
DOZER
DD80
CRAWLER EXCAVATOR
DX-MINI MODEL – DX15/DX18, DX27Z, DX30Z, DX35Z, DX55, DX60R, DX80R
DX-MINI MODEL (III) – DX62R-3, DX63-3, DX85R-3
DX-MODEL (V) – DX300LC-5
III-MODEL – SOLAR 130-III, SOLAR 170-III, SOLAR 220LC-III, SOLAR 280LC-III, SOLAR 330-III, SOLAR 400LC-III, SOLAR 450-III, SOLAR 70-III
DX-MODEL – DX140LC (DIEU EXP), DX140LC (DI EXP), DX140LCR, DX160LC, DX180LC (DI EXP), DX180LC (DIEU EXP), DX225LC (DIEU EXP), DX225LC (DI EXP), DX225LC (S/N 5633), DX225LCA, DX225NLC, DX235LCR, DX235NLC, DX225LC (DI EXP), DX225LC (DIEU EXP), DX300LC (DI EXP), DX300LC (DIEU EXP), DX300LCA, DX300LC-DEMOLITION, DX340LC, DX340LC DEMOLITION, DX340LCA, DX350LC, DX380LC, DX420LC, DX420LCA, DX420LC-DEMOLITION, DX480LC, DX480LCA/DX500LCA, DX520LC, DX700LC
MINI-MODEL – SOLAR 010, SOLAR 0140 (S/N 20001), SOLAR 015, Solar 015PLUS, SOLAR 015PLUS (S/N 20001), SOLAR 015PLUS / S018-VT, SOLAR 030, SOLAR 030PLUS, SOLAR 030Plus (S/N 20001), SOLAR 035, SOLAR 035 (S/N 20001), SOLAR 55, SOLAR 55-V PLUS, SOLAR 75-V (DIEU EXP), SOLAR 75-V (DI EXP)
V-MODEL – SOLAR 130LC-V (DI EXP), SOLAR 130LC-V (DIEU EXP), SOLAR 140LC-V (DI EXP), SOLAR 140LC-V (DIEU EXP), SOLAR 150LC-V, SOLAR 155LC-V, SOLAR 170LC-V (DI EXP), SOLAR 170LC-V (DIEU EXP), SOLAR 175LC-V (DIEU EXP), SOLAR 175LC-V (DI EXP), SOLAR 220LC-V (DIEU EXP), SOLAR 220LC-V (DI EXP), SOLAR 220N-V, SOLAR 225LC-V (DI EXP), SOLAR 225LC-V (DIEU EXP), SOLAR 225NLC-V, SOLAR 230LC-V, SOLAR 250LC-V (DI EXP), SOLAR 250LC-VI (DIEU EXP), SOLAR 255LC-V (DI EXP), SOLAR 255LC-V (DIEU EXP), SOLAR 290LC-V (DIEU EXP), SOLAR 290LC-V (DI EXP), SOLAR 300LC-V, SOLAR 330LC-V, SOLAR 340LC-V, SOLAR 400LC-V, SOLAR 420LC-V, SOLAR 450LC-V, SOLAR 470LC-V, SOLAR 500LC-V
DX-MODEL (III) – DX140LC-3 (DI EXP), DX140LC-3 (DIEU EXP), DX140LCR-3, DX160LC-3, DX180LC-3 (DI EXP), DX180LC-3 (DIEU EXP), DX225LC-3 (DIEU EXP), DX225LC-3 (DI EXP), DX255LC-3 (DI EXP), DX255LC-3 (DIEU EXP), DX300LC-3 (DI EXP), DX300LC-3 (DIEU EXP), DX340LC-3/DX350LC-3, DX380LC-3, DX420LC-3, DX490LC-3, DX530LC-3
WHEEL EXCAVATOR
V-MODEL- SOLAR 130W-V (1), SOLAR 130W-V (2), SOLAR 140W-V, SOLAR 140W-V & S160W-V, SOLAR 140W-V RAIL WAY, SOLAR 160W-V, SOLAR 170W-V, SOLAR 180W-V, SOLAR 185W-V, SOLAR 200W-V, SOLAR 210W-V (DI EXP), SOLAR 210W-V (DIEU EXP), SOLAR 55W-V, SOLAR 55W-V PLUS
III-MODEL – SOLAR 130W-III, SOLAR 170W-III, SOLAR 200W-III
DX-MODEL – B55W-2, DX140W/DX160W TIER-II, DX140W/DX160W, DX160W RAIL WAY, DX170W, DX190W, DX190W MATERIAL, DX210W, DX210W MATERIAL, DX55W
DX-MODEL (III) – DX140W-3 / DX160W-3 (DI EXP), DX140W-3 / DX160W-3 (DIEU EXP), DX190W-3
COMPACT EXCAVATOR
E55W,E60,E62,E63,E80,E85
EXCAVATOR
DX140W TIER-III
WHEEL LOADER
I-MODEL – MEGA 300
III-MODEL – MEGA 200-III, MEGA200TC-III, MEGA 250-III, MEGA 300-III, MEGA 400-III PLUS
V-MODEL – MEGA 160, MEGA 160 TIER-II, MEGA 160TC, MEGA160TC TIER-II, MEGA 200TC-V, MEGA 200-V, MEGA 200-V, MEGA 200-V (S/N 3001), MEGA 250-V, MEGA 250-V (S/N 3001), MEGA 250-V (S/N 4001), MEGA 250-V TIER -II, MEGA 300-V (S/N 3001), MEGA 300-V (S/N 1001), MEGA 300-V (S/N 2001), MEGA 400-V, MEGA 400-V (S/N 3001), MEGA 500-V, MEGA 500-V TIER-II
DL-MODEL – DL160, DL200, DL200A, DL200TC, DL220, DL250, DL250A, DL250TC, DL300, DL300A, DL350, DL400, DL420, DL420A, DL450, DL500, DL550, SD200, SD300
DL-MODEL (III) – DL200-3, DL200TC-3, DL250-3, DL250TC-3, DL300-3, DL350-3, DL420-3, DL450-3, DL550-3
DL-MODEL (V) – DL450-5
SKID STEER LOADER
430,430 PLUS,440 PLUS,450,450 PLUS,450 PLUS TIER-3,460,460 PLUS,460 PLUS TIER-3,470 PLUS
FORESTRY MACHINE
DX225LL,DX300LL,SOLAR 220LL,SOLAR 225LL,SOLAR 290LL,SOLAR 300LL
MOXY ARTICULATED DUMP TRUCK
DA30,DA40,MT25/26/31 S/N 710001-710654,MT25/26/31 S/N 710655-710970,MT26-31 SERIES III,MT30/30S S/N 353001-354360,MT30/30S S/N 354361-354688,MT36 S/N 410001-410309,MT36/41 S/N 810001-810108,MT36-41,MT40B S/N 513001-513140
MINI-EXCAVATOR
DH70
TELESCOPIC HANDLER
DT120     DT160     DT210     DT70
ATTACHMENT – HYD. BREAKER
DXB100H
DXB130H
DXB170
DXB170H
DXB190
DXB260H (DIEU MOT)
DXB260H (DI MOT)
DXB260S