Description
MTX DTC Remover allows you to turn off the MIL light on your dash; this is done by disabling the relative OBD P-Code from internal ECU logic. This application is compatible with a variety of ECU models including that of Bosch, Marelli, Continental, and Siemens.
Note:MTX DTC Remover can not support WIN10,please install it on Windows 7.

And after payment you will get download link on page,if you cannot get it,please message us (autoepccatalog@outlook.com)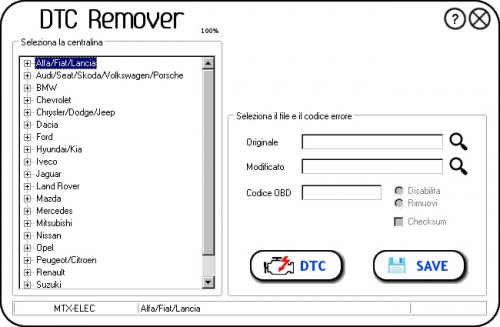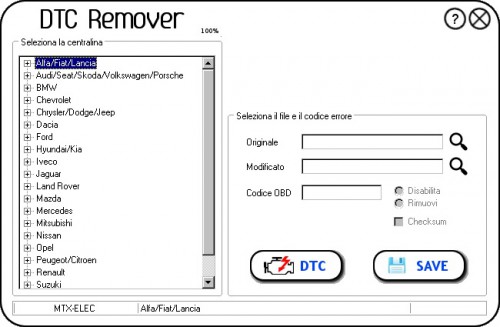 How to use MTX DTC Remover?
1.Select the control module from the list.
2.Load the file read by OBD, Boot or BDM.
3.Enter the OBD code P-Code or the specific code of the manufacturer reported by your diagnostic tool.
4.Press DTC OFF.
5.Repeat steps 3 and 4 to delete more codes.
6.Press SAVE!
Note:After payment,you can get download link.
MTX DTC Remove Support Car ECU List
Alfa / Fiat / Lancia Bosch EDC15C2
Alfa / Fiat / Lancia Bosch EDC15C7
Alfa / Fiat / Lancia Bosch EDC16C8
Alfa / Fiat / Lancia Bosch EDC16C9
Alfa / Fiat / Lancia Bosch EDC16C39
Alfa / Fiat / Lancia Bosch ME7.9.10
Alfa / Fiat / Lancia Bosch EDC17C49
Alfa / Fiat / Lancia 6JF Marelli
Alfa / Fiat / Lancia Marelli 6F3
Alfa / Fiat / Lancia Marelli 8F2
Alfa / Fiat / Lancia Marelli 8F3
Alfa / Fiat / Lancia Siemens SID803A
Audi / Seat / Skoda / Volkswagen Bosch EDC15VM +
Audi / Seat / Skoda / Volkswagen Bosch EDC15P
Audi / Seat / Skoda / Volkswagen Bosch EDC16U1
Audi / Seat / Skoda / Volkswagen Bosch EDC16U31
Audi / Seat / Skoda / Volkswagen Bosch EDC16U34
Audi / Seat / Skoda / Volkswagen Bosch EDC16CP34
Audi / Seat / Skoda / Volkswagen Bosch EDC17U01
Audi / Seat / Skoda / Volkswagen Bosch EDC17CP04
Audi / Seat / Skoda / Volkswagen / Porsche Bosch EDC17CP14
Audi / Seat / Skoda / Volkswagen Bosch EDC17CP20
Audi / Seat / Skoda / Volkswagen Bosch EDC17C46
Audi / Seat / Skoda / Volkswagen Bosch MED17.1
Audi / Seat / Skoda / Volkswagen Bosch MED17.1.1
Audi / Seat / Skoda / Volkswagen Bosch MED17.5
Audi / Seat / Skoda / Volkswagen Bosch MED17.5.2
Audi / Seat / Skoda / Volkswagen Siemens PPD1.x
Audi / Seat / Skoda / Volkswagen Siemens Simos pCR2.1
BMW Bosch EDC15C4
BMW Bosch EDC16C31
BMW Bosch EDC16C35
BMW Bosch EDC17C06
BMW Bosch EDC17CP02
BMW Bosch EDC17C41
BMW Bosch EDC17CP45
Chevrol et Bosch EDC16C39
Chrysler / Dodge / Jeep Bosch EDC15C7
Chrysler / Dodge / Jeep Bosch EDC16C31
Chrysler / Dodge / Jeep Bosch EDC16U31
Dacia Continental SID 306
Ford Bosch EDC16C3
Ford Bosch EDC16C34
Ford Siemens SID202
Ford Siemens SID206
Ford Siemens SID803A
Ford Siemens SID804
Hyunda i / Kia Bosch EDC16C39
Iveco Bosch EDC16C39
Jaguar Bosch EDC17CP11
Jaguar Siemens SID204
Land Rover Bosch EDC16CP39
Land Rover Bosch EDC17CP11
Land Rover Siemens SID201
Mazda Bosch EDC16C3
Mazda Bosch EDC16C34
Mazda Siemens SID804
Merced es Bosch EDC15C6
Mercedes Bosch EDC16C31
Mercedes Bosch EDC16C32
Mercedes Bosch EDC16CP31
Mini Bosch EDC16C35
Mitsubishi Bosch EDC16U31
Opel Bosch PSG16
Opel Bosch EDC16C9
Opel Bosch EDC16C36 (2.5L)
Opel Bosch EDC16C39
Opel Bosch EDC17C18
Opel Bosch EDC17C19
Opel Bosch EDC17C59
Opel 6JF Marelli
Opel 6O2 Marelli
Opel 6O3 Marelli
Peugeot / Citroen Bosch EDC15C2
Peugeot / Citroen Bosch EDC16C0
Peugeot / Citroen Bosch EDC16C34
Peugeot / Citroen Bosch EDC17CP11
Peugeot / Citroen Siemens SID201
Peugeot / Citroen Siemens SID201A
Peugeot / Citroen Siemens SID803
Peugeot / Citroen Siemens SID803A
Peugeot / Citroen Siemens SID804
Renault Bosch EDC16C3
Renault Bosch EDC16C36
Renault Siemens SID301
Renault Continental SID305
Suzuki Bosch EDC16C3
Suzuki Bosch EDC16C39
Suzuki 6JF Marelli
Suzuki Marelli 6F3
Suzuki 8DS Marelli
Nissan Continental SID305
Volvo Siemens SID803
Volvo Siemens SID803A